Water Classification of Watches
Dust proof……water resistant……or……pressure proof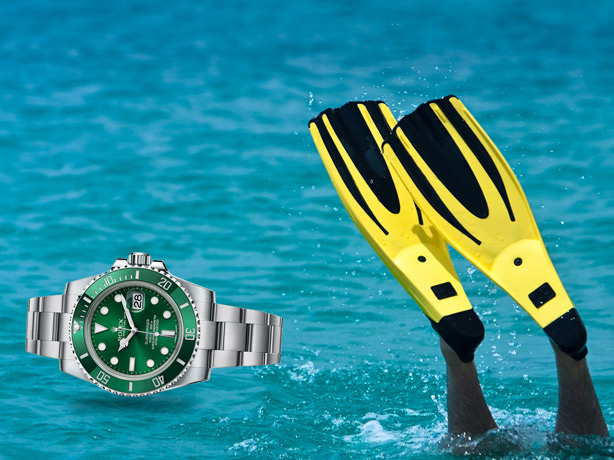 Featured above:
Rolex Submariner 116610LV
, swim proof to 1000ft.
Dust proof – a dust proof watch is normally a dress watch or an evening watch that is most likely made of solid gold. It could be on a gold band or an exotic strap the likes of crocodile, lizard, alligator or ostrich. It can be a man's or a ladies' model watch. This type of evening watch will keep dust and elements in the air out of the watch case. The watch is typically constructed with a pop up back and a pull out push in winding crown. It may also be a manual wind or a battery operated "quartz" watch. Typically it is a thin watch.
Water resistant – a water resistant watch usually appears as a sports watch on a bracelet. The material can be steel or a combination of steel and gold. Somewhat thicker than a dress watch, this watch can and will take water splashes, rain water, shower water. In the men's models, it may have a chronograph function, which is, a stop watch with push buttons on the side of the case at the 2 o'clock side or both the 2 o'clock and the 5 o'clock side of the watch case with additional sub dials in the face of the watch. The 2 and 5 o'clock pusher buttons are generally not of the screw down version. Example: Tag Heuer chronograph watches. This watch may have a screw down crown or a pull out push in winding crown. Cartier sports watches are a good example of water resistant watches.
Pressure proof – or to some people water proof. To be called and marked as such, this watch must have: a screw down winding crown (threads into a threaded case tube) and a screw back (threaded case back).
Typically, your pressure proof watch models are automatic self-winding mechanisms the likes of Rolex and Tag Heuer. Many, if not all,Tag Heuer (non chronograph) sports watches are pressure proof. On the other hand, all Rolex oyster cases are pressure proof watches. With this type of watch, water is not an issue. You may shower, swim, snorkel, and scuba dive. These watches are offered in steel, steel and gold combination and gold.
A note of caution: No watch, regardless of brand or construction or classification will remain water resistant or water proof indefinitely. Gaskets and washers do have a life span. With time and exposure to the elements these rubber and plastic gaskets are under stress and do wear, and have to be replaced.
A typical life span for a glass gasket is 8 years. Case-back and crown rubber gaskets may last up to 10 years. When giving a full service to your watch we replace all gaskets and washers regardless of whether they need to be replaced or not.