Daytona Cosmograph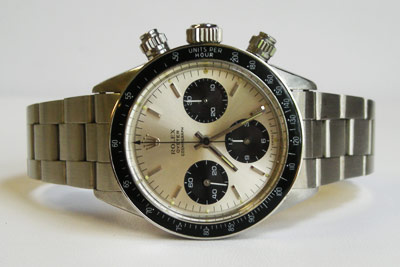 Model 6265
Rolex introduced the Cosmograph watch in 1960. The Cosmograph has the features of a stop watch for measuring the duration of an activity in minutes and hours.
The Cosmograph watch has 3 subdials: a seconds subdial, a minutes subdial and an hour subdial. The timing of a particular activity is activated by pushing the start and stop push buttons on the side of the case.
Model 6265 came into existence in the 1970s. This model had the screw-down waterproof pushers. There were numerous dial variations used in the production of the Rolex cosmograph through out its manufacturing history.
The word Cosmograph and the word Daytona were printed on the dial of this watch on various models dating from the early 1960s.
A very sought after and collectible model the Rolex Daytona Cosmograph continues to be so today.
Click here to buy our currently in-stock, pre-owned Daytona Cosmograph.