GMT Master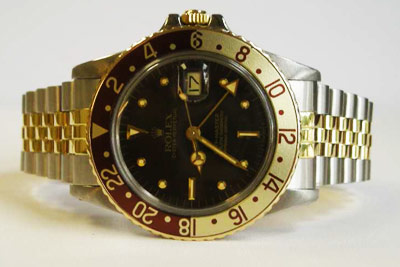 Model 1675 Steel and Gold
The Rolex GMT – Master was designed for Pan American Airline pilots and launched in 1954. The GMT – Master was the first watch to simultaneously display the exact time in two different time zones. These early GMT – Master models did not have protective crown guards.
Pan American Airlines adopted this watch as its official timepiece and issued it to its staff. A special batch of GMT watches with white dials was manufactured and issued to ground personnel, in order to differentiate between watches intended for air crew and ground staff.
The Rolex GMT- Master model 1675 with protective crown guards was first introduced in 1960.